As an industry with a goal of expansions and improvements, you will always want to embrace the factors that will help you improve the performance of your organizations. The key issues that will warrant the growth of your transportation systems entail the reduction of the transport cost! To achieve this, it's important to consider eh best  TMS Software that will make the venture to be successful.
Success in every transportation company will require a well-established TMS system that is reliable, cost-effective and more so efficient. This will make the operations and any execution to be effective hence solving the real-time hectic schedules that need straight forward solutions.
It's therefore important to make the right choice of the best trucking management system software that will accord you with this amazing benefits. The decision to subscribe to TMS solutions can be so daunting following the wide variety of these solutions that are currently trending in the market!
To be on the safe side, it's important to consider the following features before you choose the TMS solutions.
The TMS should provide a secure data system
Utmost efficiency in audit and payment schedules
Upgraded programming
User-friendly and reliable
Best communication functions
All these features above are the leading determiners that will guide you towards choosing the leading transportation management software.
Below is the list of the best 5 transportation management solution:
It will accord you with all the requirements that you need for the efficient transportation management system. They are highly rated software that has attracted highly reputable companies and therefore approving their effectiveness.
Exspeedite Transportation Management System software
This software is undoubtedly the leading TMS software in the transportation system. It's a privately owned small business service provider that offers the most amazing deals to their consumers! The Exspeedite trucking software will offer you customized services at a pocket-friendly price. They are cloud-based technology that has made transportation management to be very effective.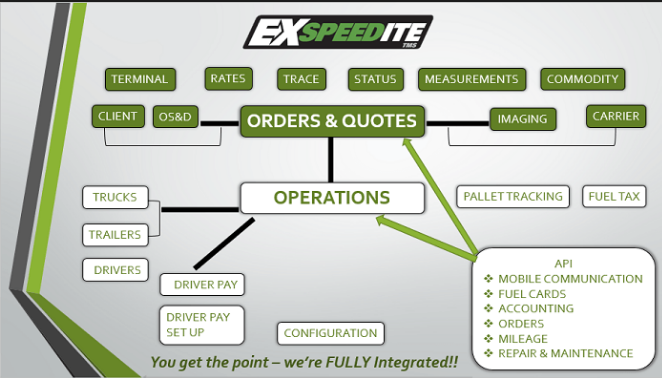 This amazing software provider is the best service providers who are experts and they understand their duties! They have managed to take hold of the transportation system which is the force that thrives every economy! Anything about the third-party logistics, freight brokerage, fleets optimization and also the problem solving together with streamlining the dispatch is their area of expertise! They are the only transportation management experts that you can rely on!
Conclusion
To conclude with, the amazing TMS software installations are available and can be obtained easily! Choose the best software and you will be sure to have smooth transportation for decades and Build the Business Case for TMS.
. It's the only way to have an improved business with cost-effective and efficient performance.