The New Year is here and that can only mean one thing – you're reevaluating your business needs while researching new enterprise trucking software partners to do business with - looking to save money, time, and increase efficiency for the year ahead.  You're also likely making a big marketing push to promote your business and make a bigger nam
e for yourself in the industry.
Trucking Software is here to help… Keeping up with the giants is what we do!
Did you know that there is a good chance you're paying more money for less service when it comes to your company's trucking software?  If you're not partnered with Exspeedite, this is the perfect time to check us out.
We are 100% copyrighted, trademarked, and using the latest technology.  No matter what segment of transportation your business operations focus on, we will deliver the best trucking management software to you, catering to each and every segment of the industry!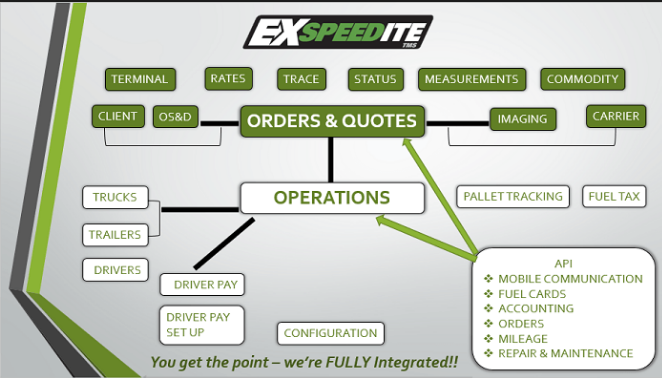 Our Trucking Software Modules are the Best for Your Trucking Company and Indeed Trucking Carriers of Any Size:
Shippers: Exspeedite delivers essential fleet management software to both privately-managed and sub-contracted resources.
3PL Service: Exspeedite's transportation logistics resolutions for 3PL businesses and carrier organizations deliver essential analytics to get ahead.  Our dispatch software is leading the way.
Brokerage: Exspeedite provides trucking software for Freight Brokers with wide-ranging uses available.
Carriers: Exspeedite's truckload carrier software delivers the capabilities that are essential to both truckload and LTL trucking companies.
You're on the move and need a partner who can stay one step ahead of you and capable of growing with your ever-changing business demands. Exspeedite shipping bookkeeping programming engineers have been grinding away for more than 15 years and still keep on offering you the best assistance accessible at a lower cost! It is adequately troublesome to contend in this set up market, and in this day and age, you need to have shipping bookkeeping programming that is improved with each redesign. Our remarkable stage gives critical thinking assets to give your organization the opportunity to zero in on pushing forward toward progress.
We cater to your small to mid-size company.  Our portfolio consists of trucking management software for Dispatch, r&m trucking software, Brokerage, EDI, Mobile Communications, OS&D, IFTA, Order Imports, and conveniently delivers Driver Information with Event Notification instantly to your email.
These are just to name a few.  To further bring our expertise to you, Exspeedite mobile truck software has enhanced EDI functionality along with a more comprehensive integration with QuickBooks and Sage.
Exspeedite is committed to listening to our prospects and loyal, long-standing clients.  When your business needs change, so does our portfolio.  Let us know what matters to you most and we'll address it quickly to build and enhance the trucking company you require – put your trust in us and you'll have the best competitive advantage against the giants!